OUR DOCTOR
---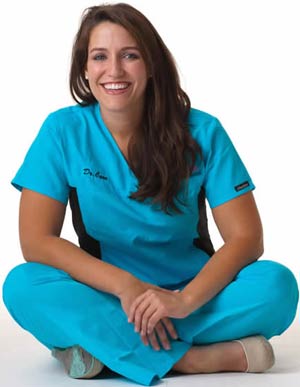 Dr. Cara
Dr. Cara DeLeon is happy to call Savannah her home. She spent her high school years in Augusta, Georgia, but also had the unique opportunity to travel and live around the world, in places like Alaska and Germany, while her father, an orthodontist, served in the military.
Dr. Cara graduated from the University of Georgia where she majored in Dietetics. After college, she completed dental school at the Medical College of Georgia (MCG) in Augusta. While at MCG, she was very involved in the Student Dental Association, serving as President in her junior year. Before graduating, she was awarded the International College of Dentists Leadership Award, the Georgia Dental Association Outstanding Leader Award, and the Public Health Award. Dr. Cara was also inducted into the service based honor society, Alpha Upsilon Phi.
After graduating dental school, Dr. Cara completed two years of pediatric specialty training at the University of Louisville, providing her the opportunity to work and learn in an outstanding children's hospital. During her residency, Dr. Cara worked closely with pediatricians, anesthesiologists, emergency medicine physicians, and hematology and oncology specialists, preparing her to maintain the highest level of care for both healthy and special needs children. Dr. Cara is a Diplomate of the American Board of Pediatric Dentistry, successfully completing the voluntary examination process designed to validate the knowledge, application and performance requisite to the delivery of exceptional care in pediatric dentistry.
Besides dentistry, some of Dr. Cara's favorite things to do include kayaking, cheering on the Georgia Bulldogs, and volunteering with Savannah Volunteer Dental Clinic. She also loves spending time with her goofy Airedale Terrier, Skipper.
---
 HOME